WRBA Boxers Return With Two Belts
---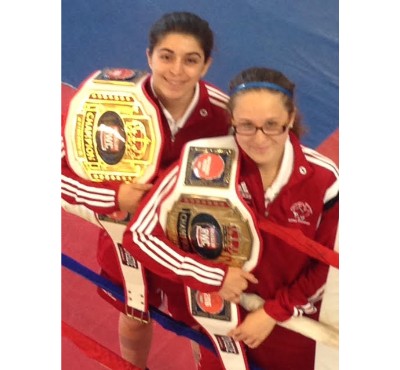 For 14 yr old Tatianna Antunes and 16 yr old Katelyn Vanderlaan this would make their first time attending the Ringside World Boxing Championships in Independence Missouri. The Annual tournament drew 1340 athletes from around the world.
Katelynn Vanderlaan boxing in the 60 kg category won the tournament "uncontested" meaning that there was no one in her weight division in the entire tournament.
Katelyn faced the possibility of going home without competing however at the last minute the boxing gods appeared. Two-time National Champion Maricia Sustaita from Garland Texas who boxed at the higher 145 lbs weight class lost her bout in the semi-finals. Sustaita agreed to box Katelyn on the last day of the Tournament.
Tatianna Antunes faced Kylie Kilmer from Belle Fourche South Dakota in the finals of the 54 kg category. Tatianna used her reach and controlled the American from the onset. As the bout progressed, Tatianna gained more confidence and began to land combinations at will. At the end of the bout, the decision and the belt was awarded to Antunes. Tatianna's boxing skills caught the eye of many at Ringside.
Up next should have been Katelyn, however when the athletes attended the gloving table, the Texan Sustaita failed to show up for the bout. Sustaita did appear for weigh-ins and medical as well as seen in the venue during the Antunes bout. Vanderlaan was awarded the walk-over win however she was clearly disappointed in not being able to compete.! Again, no bout.
Both girls return to Canada and did not enjoy any time off as the immediately began getting prepared for the Ontario Summer Games being held Aug 11-14 in Mississauga.
Antunes and Vanderlaan have also been invited to compete at the Esker Cup, an all-female tournament being held in October in Dublin, Ireland.